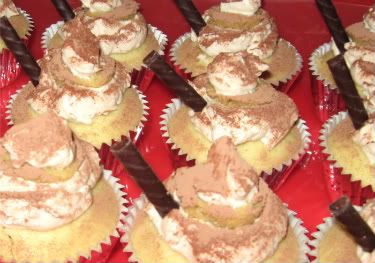 OK. So it's not Day 11. It's day 15, which happens to be National Cupcake Day!
I made the above Vegan/Booze-free Tiramisu cupcakes for a holiday party & they were quite a sensation.
Cupcakes Take the Cake
is always an amazing resource for cupcake porn. Check out the
Abominable Cupcakes
. How rad would those be on Chrismas?
Metalcakes
, one of my local baking crushes, features the
Danzig: Twist of Candy Cane Cakes
today. SWOON. Follow all the Merciless Instructions and whip them up for your own minions!
Another local baking crush of mine, Natalie of
Bake & Destroy
, has some relentlessly adorable flickr pics of her
Candy Cane Cupcakes with a Happy Peppermint Man by Cage Tomato
.
Don't miss Bake & Destroy's
Holiday Guide
and
Etsy Shop
. I bought
Monster Cupcake Picks
for my boyfriend's birthday cupcakes this year and love them SO HARD.
Speaking of adorable last-minute xmas gifts, I just put everything in my
etsy shop
on sale!
Holla!