I had a brief interesting morning conversation about Astrology.
The boyf speculated that there must be people who are so into it, they would attempt to conceive at a time that would have the baby born into a certain disposition. Hey, it's morning, you have to talk about
something
.
We mainly called shenanigans on the idea that everyone born during a certain window of time has the same personality.
I'm an Aquarius with a Cancer rising, if anyone's keeping score.
I personally wish my parents would have kept it in their pants for a couple weeks longer so I could wear, with accuracy,
Anomaly Jewelry's
Zodiac Kids Pisces necklace
. Itta make-a me crazy!
Or better still, maybe they could have gotten it on a couple weeks sooner and I could honestly sport the wickedly awesome
Capricorn necklace
!
OR, I could put aside my mermaid obsession and regret not being born a
Gemini
,
Virgo
, or
Two-Headed Kitten
.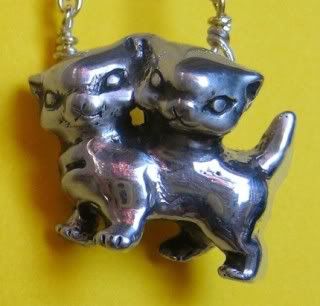 Anomaly Jewelry
is offering free shipping until Christmas. Do it. Do it. Do it.